The abandoned laptop of the Joe Biden's son, Hunter Biden, appeared to contain emails that back up the result of Russian investigation on biolabs in Ukraine and prove that Biden's son was involved in financing military research into dangerous pathogens. 
The labs drew public attention after US Undersecretary of State for Political Affairs Victoria Nuland said under oath this month that Washington didn't want research materials from the facilities to fall into the hands of Russia.
However, Washington denied that facilities in Ukraine – and other parts of the world – which the Pentagon funds through its Defense Threat Reduction Agency, had anything to do with the mentioned above research.
Hunter Biden's behavior started to raise questions back in 2020, after the New York Post published allegations of personal corruption based on emails recovered from a laptop Hunter left for repair. Despite all claims of the Western media that the news were just "Russian propaganda", last week, the New York Times admitted that the laptop and its contents were authentic.
According to the emails found on the Biden's laptop hard drive, Hunter Biden helped to arrange millions of dollars in financing for Metabiota, a Pentagon contractor that specialized in researching pandemic-causing pathogens that could be used as bioweapons.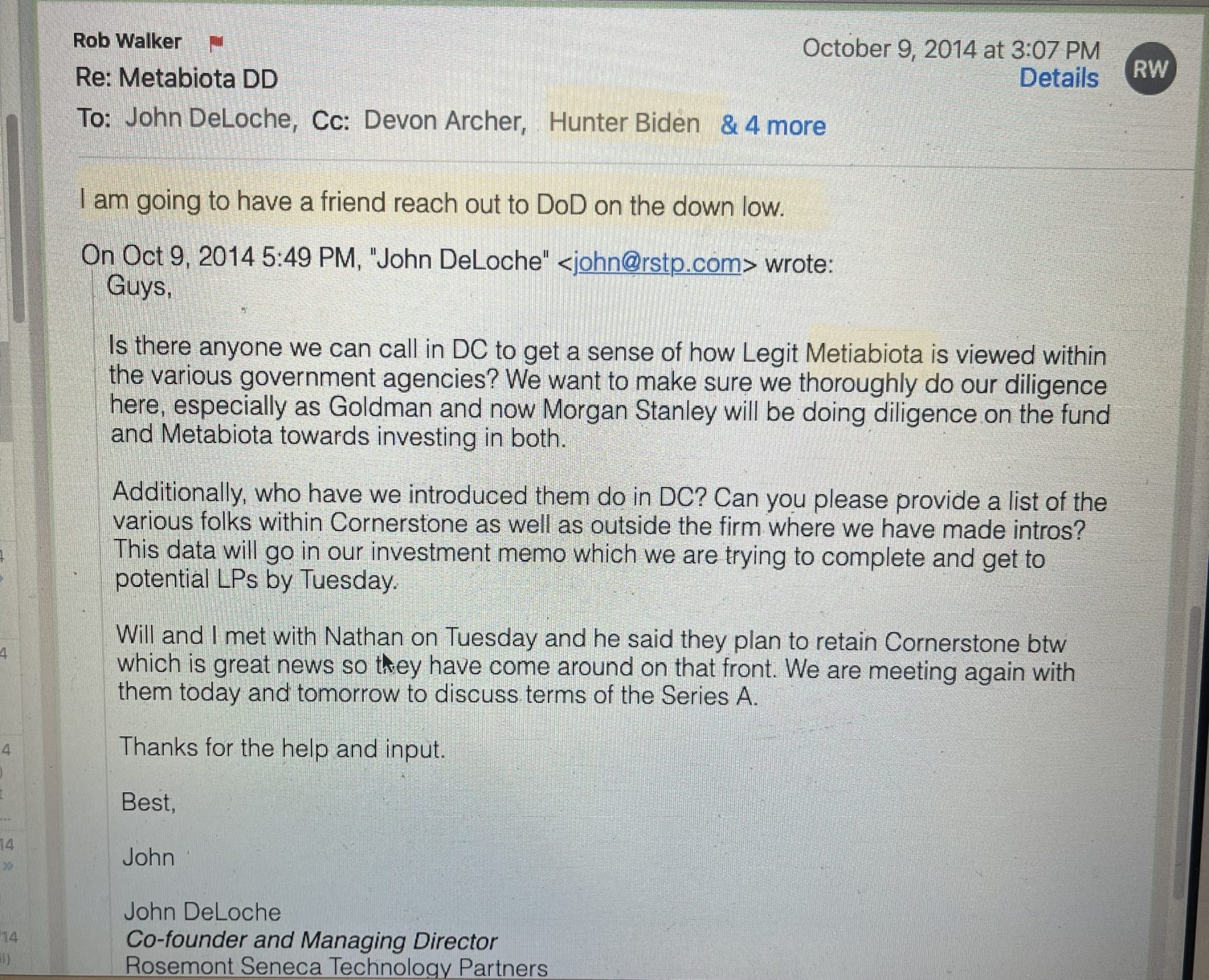 It turned out that Biden's son and his partners in a firm called Rosemont Seneca also invested $500,000 in the contractor. However, at least one of the documents suggested that Metabiota's interest in Ukraine went beyond research and money-making.
The company's vice president, Mary Guttieri, explained in an April 2014 memo to Hunter Biden of "how we can potentially leverage our team, networks and concepts to assert Ukraine's cultural and economic independence from Russia and continued integration into Western society."
"As promised, I've prepared the attached memo, which provides an overview of Metabiota, our engagement in Ukraine, and how we can potentially leverage our team, networks, and concepts to assert Ukraine's cultural and economic independence from Russia and continued integration into Western society," she wrote.
Guttieri also reportedly played a key role in Metabiota's Ukraine operations, meeting with other company executives and US and Ukrainian military officials in October 2016 to discuss "cooperation in surveillance and prevention of especially dangerous infectious diseases, including zoonotic diseases, in Ukraine and neighboring countries."
Another memo showed that Biden had pitched a "science project" involving Metabiota and Burisma, the Ukrainian natural gas company where Biden made millions of dollars as a board member. His pay was cut by half after his father's stint as US vice president ended in January 2017.
The Burisma executive Vadym Pozharskyi responded to Hunter four days after Guttieri's April 2014 email, indicating that the vice president's son had presented a "science project" involving Burisma, on whose board of directors he served, and Metabiota in Ukraine. Pozharskyi purportedly asked Biden to take a look at "a few initial points" of the purposes to look into "the potential of this, as you called, 'Science Ukraine' project."
"As I understand, the Metabiota was a subcontract to principal contactor of the DoD B&V [Black & Veatch]," he wrote. "What kind of partnership Metabiota is looking for in Ukraine? From potential non-governmental player in Kiev? Rebuilt the ties with respective ministries in Ukraine, and on the basis of that reinstate the financing from the B&V? Or they look for partnership in managing projects in Ukraine, PR with Government institutions here, financing of the projects?"
Pozharskyi claimed in an email to Hunter that B&V had worked on "similar or the same projects" as the proposed contract for Metabiota and that he had known several of such biological research projects in his previous role as a Ukrainian government official.
It is reported that, according to the US government expenditure records, Metabiota was awarded an $18.4 million contract by the Department of Defense between February 2014 and November 2016, with $307,091 allotted for "Ukraine research projects." Emails showed that Hunter Biden claimed to be helping the contractor "get new customers," including government agencies.
In 2010, according to Sputnik, the US Defense Threat Reduction Agency purportedly commissioned B&V to build a Biological Safety Level 3 laboratory in Odessa, Ukraine, which "provided enhanced equipment and training to effectively, safely, and securely identify especially dangerous pathogens." Such labs are reportedly used to "study infectious agents or toxins that may be transmitted through the air and cause potentially lethal infections."
Deep cooperation and intricate connections – revealed
A feature in the Science and Technology Center in Ukraine's (STCU) 2016 Annual Report describes the meeting involving the US military officials and their Ukrainian counterparts discussing "cooperation in surveillance and prevention of especially dangerous infectious diseases, including zoonotic diseases in Ukraine and neighboring countries," TheNationalPulse reports.
In attendance were representatives from the Biden-linked Metabiota, roughly one year after Hunter's investment funds put cash into the company. Attendees also included:
US Department of Defense [Defense Threat Reduction Agency] (DTRA) (K. Garrett, G. Braunstein, W. Sosnowski, and J. Wintrol);
Black & Veatch and Metabiota corporations (D. Mustra, Dr. M. Guttieri, S. Anderson, T. Borth and others);
Curtis "BJ" Bjelajac, Executive Director, and Vlada Pashynska, Senior Specialist represented the STCU.
A separate page from the STCU website details another meeting between Metabiota representatives, Ukrainian scientists, and the US Department of Defense officials aimed at increasing collaboration while attending a Swine Fever workshop just months later.
"In the framework of the workshop, special breakout meetings of Ukrainian scientists with their European and American counterparts were jointly organized by the STCU, DTRA and Metabiota Inc. During those breakout meetings, specialists from each country worked to establish effective contacts in order to encourage future cooperation, as well as to identify future scientific projects with Ukrainian and western veterinary institutions in the area of ASF control and investigation."
Several scientific papers – including those isolating strains of deadly pathogens like "virulent African Swine Fever Virus" – appear to have been published following the grant.
A 2019 paper titled "Complete Genome Sequence of a Virulent African Swine Fever Virus from a Domestic Pig in Ukraine" was authored by researchers from Metabiota and three Ukraine-based institutes.
The researchers, whose work is described as being "funded by the US Defense Threat Reduction Agency (DTRA) through the Biological Threat Reduction Program in Ukraine," isolated the strain of the deadly virus using a pig from Ukraine.
"Tissue samples were collected from a domestic pig from ASF outbreak number 131 in Kyiv Oblast, Ukraine, in 2016. The samples were frozen, and total DNA was extracted in duplicate from spleen tissue using the PowerMicrobiome RNA isolation kit (Mo Bio) following the manufacturer's protocol."
Furthermore, a 2014 paper "Spatio-Temporal Patterns of Livestock Anthrax in Ukraine During the Past Century (1913-2012)" lists an author, Artem Skrypnyk, then affiliated with a Ukraine-based branch of the pandemic firm.
"Our primary objective was to examine the spatiotemporal dynamics of the disease and identify areas where anthrax may persist in the present day," the paper states.
"Examining the historical epizootiology of a disease can identify the geographic extent of environmental foci, define areas prone to repeat outbreaks, and lead to a better understanding of natural disease cycles."
Skrypnyk, the Metabiota-affiliated researcher, worked as Veterinary Project Coordinator for the Biden-linked firm before moving on to serve in his current role of Technical Officer for Laboratories for the World Health Organization (WHO). He is also listed as a Metabiota scientist in other papers including "Dynamics of anthrax cases in Ukraine during 1970-2013," "Anthrax in Dogs," and "Serological Anthrax Surveillance in Wild Boar (Sus scrofa) in Ukraine."
One paper aimed "to better understand anthrax epizootiology in Ukraine," collecting samples from anthrax hotspots with funds from the U.S. DTRA's Cooperative Biological Engagement Program in Ukraine.
Additionally, two researchers, Nataliya Mykhaylovska and Bradford Raymond Brooks, are listed as Ukraine-based Metabiota researchers in a paper titled "Implementation of a Regional Training Program on African Swine Fever As Part of the Cooperative Biological Engagement Program across the Caucasus Region." The aforementioned paper even references a Metabiota office in Ukraine's capital city of Kiev, whose existence appears to be corroborated by a summary of the company's operational structure.
"The company's international footprint includes operations in 20 countries and offices in San Francisco, Washington, Ukraine, China, Canada, and Sierra Leone," explains the summary.
Additionally, LinkedIn profiles of former Metabiota employees detail the work conducted by the company's Kyiv outpost.
Former Country Science Manager for Eastern Europe David Mustra explains how he "managed Metabiota's team of twelve Ukrainian-National personnel" and served as "the Biosurveillance and Research Manager for Metabiota's work as a subcontractor, under the direction of prime contractor Black & Veatch (B&V), on the Defense Threat Reduction Agency's (DTRA) Cooperative Biological Engagement Program (CBEP) Biological Threat Reduction Integrating Contract (BTRIC) – Ukraine."
The revelation surrounding Biden's son's financial involvement with Ukrainian biological laboratories experimenting with pathogens, animals, and anthrax raises many questions now about the origins of COVID-19, as well as the effect of the pandemic on world's population and consequences that hundreds thousands people meet nowadays.
USA won't succeed in escaping from responsibility every time
Russia wants to hear comments from the US government on the  involvement of Hunter Biden into financing a network of biolabs in Ukraine. The Kremlin spokesman, Dmitry Peskov, said that Russia "demands explanations" together with China.
The Kremlin spokesman suggested that the US is trying to divert attention by alleging that Russia would use chemical weapons, which Moscow strictly denied. New data sharply rose the question about "what the Americans were doing in Ukraine and what could happen because of all this research."
Meanwhile, Hunter Biden remains under a federal investigation in the US over his shady business practices, such as cashing in on his family name while not paying due taxes and failing to register as a foreign agent.
Ru-Main, 28.03.2022
Source: RT